Your advantages in the Flesh Tunnel Shop
over 300.000
satisfied Customers

Top Service and Top Prices are our secret of success

Excellent
Service

Here you are the King and get Customer Service on the highest Level.

Free
Shipping

worldwide from 50 Eur

Order today
Receive tomorrow

We have everything in stock and ship directly after payment receipt

Flesh Tunnel Shop
is fair!

With our high product quality, you can not undercut us at the price!

14 Days
refund policy

Product you do not like. Send it back within 14 days.
Other interesting categories
Flesh Tunnel Shop - The Original
Flesh Tunnel Shop - Why is that? We are deeply passionate about stretched ears, pierced bodies and beautiful jewellery that match this lifestyle. We want you to discover the full range of flesh tunnels, ear plugs as well as suitable body piercing accessories like enlarging crescents and expanders. In addition you can order fake plugs and earrings for unstretched and normal earlobe piercings. Finally we present you Supernova Concept, the high-class brand for an extraordinary quality and taste.
Buy your Tunnel and Ear Plugs online in Flesh Tunnel Shop at low prices!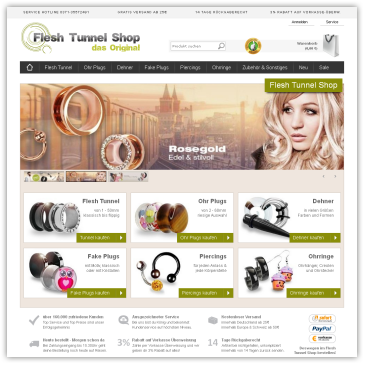 Flesh Tunnel Shop - The original! Often imitated, but never duplicated.
Flesh Tunnel Shop is your premium provider of quality body piercings at low prices. Our Online piercing shop offers you additionally top notch customer service – any questions regarding piercings and our FTS piercing experts are happy to help. We manufacture all kind of body piercings ourselves – so whatever piercing you desire, we have it in stock. Our extensive product range of over 10,000 body piercing and body jewellery items enables us to deliver very quick – usually you receive your desired body piercing within 2 days of payment. Let's start your online shopping experience and find out why Flesh Tunnel Shop is called "The Original"!
Flesh Tunnel
Flesh Tunnel Shop is your body piercing shop of choice offering you a massive range of body jewellery, fashion jewellery and unique piercing designs at very low prices. And on top we offer outstanding customer service, high speed delivery and a lot of information about body piercings. Our corporate philosophy puts you, the customer, at first as we truly believe that delivering value for customers starts right here. If you are a returning FTS piercing shop customer then you already know what we are talking about. If it's your first visit, you are warmly invited to take a look.
High quality piercing materials
Our name represents high quality materials and unique jewellery designs at the best prices possible. We emphasise high quality standards through carefully sourcing only the best materials for you. We ensure this through regular checks of materials, suppliers and even our unique piercing designs. All materials we offer you have been approved by APP, the association of professional piercers – a quality sign for our high quality body piercing materials. Most of our jewellery is based on either surgical steel 316L or 925 Sterling Silver. But if you are on the lookout for more exotic materials – have a closer look in our wood & exotic section where you can find body piercing items made out of Indonesia woods, buffalo bone, shell, precious stones and much more.
High profile customer satisfaction
Flesh Tunnel Shop is committed to 100% customer satisfaction – we ensure you that you will enjoy your body piercing purchase from our online piercing shop. All our products are aseptically packaged and will arrive in pristine condition on your doorstep – you will know and feel that all our products are brand new. In the unlikely event that our quality hygiene seal is broken, we are happy to provide a replacement at no additional costs to you.
We will ship worldwide at a flat rate – transparency is our goal. For piercing deliveries within the UK and Europe we will charge you a flat fee of £6. For the rest of the world we charge £9 delivery. And now the best deal – if you order piercings in excess of £100 then shipping is free! The Flesh Tunnel Shop helps you to save on p&p – so you have more money in the pocket to choose from our over 10,000 piercing jewellery designs.
You are in favour of a unique fashion style? Our team at Flesh Tunnel Shop helps you to find your perfect look – flesh tunnels and ear plugs are definitively a highlight. Choose from many different colours, designs and styles. We not only offer classic and exotic designs, but also the latest fashion trends in body piercing and jewellery.
background of body arts
Piercings are a rather young, but unique version of jewellery (sometimes also referred to as body piercings or body jewellery). Piercings are a modification of the human body by cutting or puncturing to create a hole which is suitable to wear jewellery. Every human body part is possible, so it depends on personal preferences. Most common body piercings are ear piercings (e.g. tragus piercing or helix piercing) and tongue piercings.
Earrings have been worn since many centuries. Whereas old African tribes pierced their nose and breast since back in the days as part of their heritage, in Western society it is a rather new phenomenon which occurred since the 1980's. Many piercings have been created since – nose piercings, eyebrow piercings, nipple piercings, navel piercings and genital piercings for men and women – no part of the human body has been spared. Thought to be a short-lived trend, piercings ever since grow in popularity and will continue its triumphant success.
Body piercings are a fashion accessory and give a one-of-a-kind look to a person. However, some people may overdo it a bit with piercings. Have you heard of Elaine Davidson? According to the Guiness book of World Records she is the "Most Pierced Women" – in February 2011 she had 6,925 piercings in her body. Thereof about 500 genital piercings, internally and externally, which reportedly have a weight of 3kg. Is this beautiful? Everyone has its own taste – the most important is you like what you wear and feel self-confident with it.
Most piercings are easily visible. However, a not so small minority uses body piercings as sexual body toys. Many people would swear an oath that it is quite an adventure to experience a nipple piercing, a prince albert piercing or a clitoris piercing.
For some, just wearing a regular piercing is not sufficient. They like to stretch their ears so that they are able to wear flesh ear plugs or flesh ear tunnels. With special ear stretching equipment they stretch their ear – some people up to 60mm and more. Obviously this is a true eye-catcher.
Nowadays, body piercings are mainly fashion accessories and personal visual statements to the public. Piercings have been known to mankind for about 7,000 years. Especially native tribes used piercings as symbol of tribe membership or for ritual reasons. Until today, many native tribes in Latin America, Africa as well as Australia still wear body piercings. For Western society these kinds of body piercings look a bit old-fashioned however.
Piercing fans can choose from a variety of materials for their piercing jewellery. From surgical steel piercings to piercings made out of silicone, titan, acrylic or organic materials like coral, nut, wood and bone – the possibilities are endless. The place on body can also determine which piercing jewellery is suitable. A wide range of ear piercings is possible – flesh tunnels, Auricle, Conch, Daith, Helix, Industrial, Lobe and Orbital piercings are only some of them. Other body parts allow you some flexibility what to wear. Be it a ball closure ring, bananabells, body spirals, labrets or circular barbells – nothing is impossible. Combined with all imaginable colours, visual designs and graphic attachments, you can choose your unique body piercing out of a never ending product line.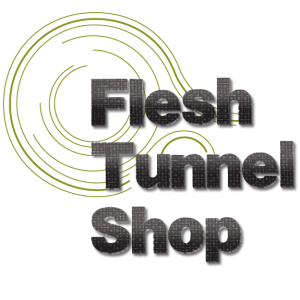 Flesh Tunnel Shop