Pink Flesh Tunnels & Plugs
---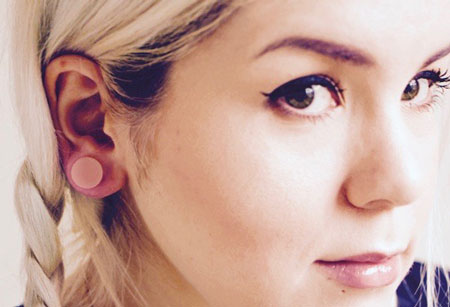 Like the colour red pink is also related to love, nurtering and represents compassion. Pink is also seen as a feminine romantic and intimate colour with a sexual appeal. Pink tunnels and flesh plugs are therefore perfectly suitable to stress your personality and to show some love to the outside world.
Pink Flesh Tunnels - be optimistic
Pink is the colour of optimism as well. It is the statement that everything will be ok at the end. And if things are not ok it is still not the end. You can show this positive energy easiely by wearing pink tunnels. People will notice you in a positive way when you wear them. Especially during the autumn and winter months it can be very helpful when you see people recognizing you in a positive way. There are many different materials that pink flesh tunnels can be made of. Currently red steel tunnels are a huge new trend in the body modification scene. In the past years flesh tunnels made of surgical steel have mainly been available in colours like different shades of grey and silver. Recently new techniques have been developped to manufacture long living, robust flesh tunnels made of steel also in different colours like pink. Next to its symbolic meanings this new production technique that made it possible to produce tunnels made of steel in any colour has made pink steel tunnels to something special. If your intention is to stress your unique personality by beeing different pink steel tunnels are the right choice. If you rather prefer silicone or acrylic tunnels instead we also offer them in best quality here. Their advantages are that they are very lightweight, flexible and nevertheless also durable. No matter which pink tunnels you select you will always show your love to the world.
Even More Space for creativity than with Tunnels - Pink Flesh Plugs
They offer even more space for crazy pink motifs on the jewelry or just for the pure beauty of the colour pink. Very popular at the moment are the pink glass plugs, glitter plugs and LED plugs. The glass plugs have a unique structure that make them even more individual. Pink glitter plugs are just perfect to wear at any party or festival exactly like the LED plugs that glow in the dark. If the beauty of pure pink is enough for you maybe the pink silicone plugs are the right choice for you. This material is very flexible and long-lasting. Also a very attractive jewelry - variation are our pink SUPERNOVA flesh plugs and tunnels gemmed with SWAROVSKI crystals. They underline the beauty of pink steel tunnels with the fancy SWAROVSKI rhinestones. No matter which kind of pink tunnel jewelry you prefer you can buy any style here. Be it antique pink, baby pink, coral pink or even dusky pink - you will get it here. Shop your favourite tunnels in this sexy colour now.