---
Stainless Steel Flesh Tunnels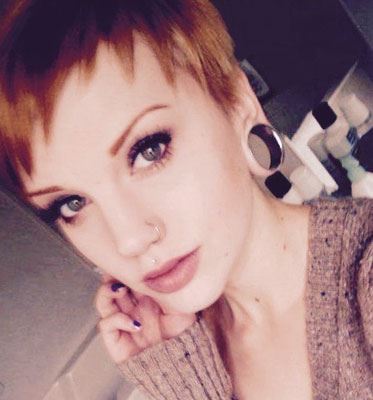 Flesh Tunnels are available in various kinds of materials. One of the most popular materials is steel. Steel tunnels are very robust, long-lasting and additionally they are antiallergic. While in the past steel tunnels have been only available in the colours silver and black this has changed within the last years. Now tunnels made of 316L high quality surgical steel are also available in colours like red, pink, green, white, antique steel, pearl white and gold. It is possible to produce steel ear tunnels and flesh plugs in these colours becauses new manufacturing techniques have been established within the last years. These make it possible to produce scratch resistant, robust tunnel jewelry made of steel in any colour you like.
Steel Flesh Tunnels and Plugs decorated with strass - a true eye catcher
Strass crystals are a common trend not only with tunnel jewelry. You´ll find them as decoration on necklaces, bracelets, earrings and on clothing, too. Therefore it is not surprising that stainless steel tunnels covered with rhinestones, strass and paste are also very popular at the moment. The strass trend definitely is a global fashion trend that is very versatile and therefore this trend will never become boring or obsolet.
Colourful steel tunnels in pink, red, green, white and antique brown
In the past colourful tunnels and flesh plugs needed to be produced of acrylic, plastics or silicone. If you wanted to wear steel tunnels you could only decide between black and silver. Fortunately these days are gone. Now we offer you a large variety of different colours like red, pink, green, white and brown also for tunnels made of stainless steel. This way you have all the advantages that steel tunnels offer brought toghether with the briliant colours you used to know from other tunnel materials. The most popular colourful steel tunnels are the pastel green ones. These are available in many different sizes ranging from 1.2mm to 20mm. For the red, pink, antique brown and white tunnel jewelry made of 316L premium steel these sizes are available as well. A very special colour for steel tunnels that becomes more and more popular are the antique brown ones. These look a bit like they would be rusty which brings some roughness to your style. But don´t be afraid the tunnel jewelry is not really rusty. The tunnel jewelry just simmulates the colour of rust and its texture. Like all our steel tunnels the antique brown ones are of course stainless so that you will never find genuine rust on them.
Buy Black and Silver Tunnels made of surgical steel
Although steel tunnels are meanwhile available in such a wide colour palette the classic colours are still silver and black. These are still very popular especially in combination with strass and rhinestones. But our most popular alltime bestsellers are definitely the classic, plain black and silver steel tunnels. These will perfectly fit to any outfit you might wear and are available in a large variety of different sizes ranging from 1.2 to incredible 50 millimeters. Apart from the classic steel tunnels and the gemmed tunnel plugs we offer icon plugs and individually shaped steel plugs as well. Very popular at the moment are steel tunnels with an iron cross, black star or cherry in the center. Most of these are double flared tunnels but you will find single flared jewelry in our portfolio as well. No matter what kind of stainless steel flesh tunnels you like the best we are sure you will make a find here in our shop.
Lovely Steel Tunnels
Flesh Tunnels describe stretched piercings in your ears. They are also called lobes, tubes or simply flashs. Any tunnel found here is fabricated of steel. But we don?t talk common steel. The steel used is highly alloyed stainless steel, also called surgical steel 316L. The name results from the application in hygienically sensitive environments like hospitals and medical offices. Sizes range from 1,2mm to massive 50mm in diameter. Our workpieces are finished in various ways. The broad range of details runs from a black or silver basic colour to items with blue, red, green or pink crystals and flesh tunnels with certain shapes like an iron cross or a centered star.
Stainless Steel Flesh Tunnels usually can be defined by the way they are attached to the earlobe. Double flare tunnels have a slight concave bulge at the outside. Single flare flesh tunnels have a concave bulge at one side and a holding rubber band at the other. Nevertheless most steel ear tunnels are equipped with an external thread that helps the insertion of the jewellery.