---
Picture Ear Plugs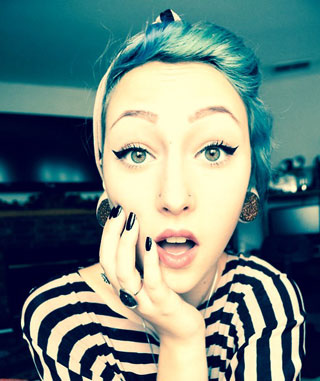 Whereas some people believe picture plugs might be counted among the rare pieces of plug designs, reality shows that many piercing lovers are into picture ear plugs. This can be easily explained by the possibility of countless designs you can choose from. The big surface makes place for numerous different styles. Whether oldschool motives like 8-Balls, dices, Pin up girls, stars or cherries or pictures in aesthetics of nature. Most of the plugs in this category come with a practical thread that helps you put in your ear plug. In order to protect your chosen pictures from external influences, every plug is covered by a transparent protective layer. Our collection is topped off with crystal adorned picture plugs and glow in the dark pieces. Still havent found your favorite image? Switch to our customization section and get your own picture plug manufactured.
Anchor plugs, bulldog plugs or food ear plugs - select your favourite picture plugs
Here in our picture plugs section you can select from a large variety of different crazy picture plugs. We are adding new stuff on a regular basis, as soon as we see something cool you will find it here shortly afterwards. Because it is sometimes hard to decide which picture flesh tunnel plug to take we will try to make you the decision a bit easier by giving you some suggestions. At the moment the most popular picture ear plugs are anchor plugs. These are available in different variations and the best thing is that they are available in almost any size between 3 and 50 millimeters. At least as popular are picture flesh tunnel plugs with animals. Be it owls, french bulldogs, pug puppys, birds or cats you can find a whole animal farm here. All this jewelry is made from robust and lightweight premium acrylic material so that your piercing jewelry will last for a long time.
Dope and cannabis plugs, smiley plugs or crazy cupcake plugs - the hottest picture plugs for any party
No matter if you like picture flesh plugs with hemp motif, the good old acid house smiley motif on your jewelry or tasty food like burgers and different cup cakes you will definitely find the perfect motif for your picture plugs here. For the unprobable case that you don´t find your perfect flesh tunnel motif here our custom plugs might be the best solution. These can be fully custumized with a picture of your choice. No matter if you like the motifs we offer or if you like to have a completely unique custom plug, here at our picture plug shop you are perfectly right.