---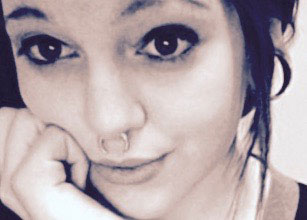 Like the name already implicates - these stretching tools are known for their crescentic appeal. While it seems quite a specific tool, stretching crescents can be used for all kinds of piercings. The individual shapes enable the achieving of stretching procedures at tricky body locations like the nasal septum. You can easily use them as fashion items at a daily basis. The balanced and relatively short shape leads to a good wearing comfort for many hours. The big sized surface lays the foundations for several cool and crazy designs or pattern ideas. Flesh Tunnel Shop provides you with various crescent materials starting from surgical steel 316L to acrylic synthetics. A selection of numerous colours complements this section.
Circular Septum Plugs - expand your septum piercing
As already mentioned stretching crescents are perfectly suitable to expand body piercings that are located on places of the body where stretching is more complicated. This is for example the nasal septum. It can only be stretched very slowly and straight tapers would not be suitable to do so. A stretched septum piercing is a special body modification that is not very common at the moment but chances are high that it will become more and more popular in the future. We can see that some body modifcation trendsetters are already wearing them. By wearing circular claws you can perfectly stress your unique personality because at the moment it is definitely not main stream to do so. Also you may be one of the so called early adopters which are the guys that can forecast any new fashion trend.
Stretching Crescents made of Acrylic
Like with all other piercing and flesh tunnel jewelry acrylic is a perfect material to manufacture stretching crescents out of it. Acrylic is very lightweight, sterile and varied material that is available in an almost unlimited colour range. Here at flesh tunnel shop you can buy acrylic circular tapers in the colours pink, black, white, mother of pearl, silver, pearl white, blue, purple and red. All the acrylic claws are available in sizes from 1.6mm up to 10 or even 14 millimeters. This way chances are high that everybody will find the circular plug jewelry that is perfectly suitable for her or him.