Red Flesh Tunnels & Plugs
---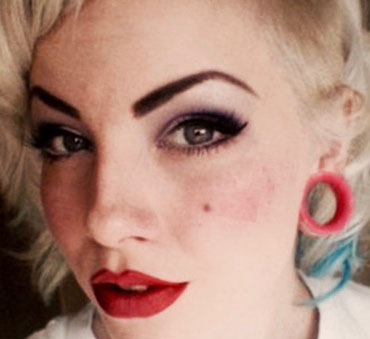 Red is the colour of love. And as we all know love is what life is all about. Red is also associated with our will to survive and our most physical needs. This makes red to a very powerful end energetic colour. With red jewelry you can show some love to the people around you. Especially red flesh tunnels or flesh plugs are very noticeble. You will definitively get noticed in a a positive way by the people that surround you. We offer a large variety of different red ear tunnels. Therefore we are sure you will find your favourite one.
Red Flesh Tunnels - Show Some Love To The World
There are many different materials red flesh tunnels can be made of. Currently we can see red steel tunnels as a huge new trend in the body modification scene. In the past flesh tunnels made of surgical steel have only been available in colours like silver and different shades of grey. During the last years new techniques have been developped to manufacture long living, robust flesh tunnels made of steel also in different colours like red or any other colour you can think of. This is why red steel tunnels are definitely something special. They stress your unique personality and will perfectly fit to your look. If you rather prefer silicone or acrylic tunnels instead we also offer them in best quality here in our shop. They are very lightweight, flexible and nevertheless also very durable.
Red Plugs - Even More Space For Love
Our red flesh plugs offer even more space for red motifs on it or just for the beauty of the colour red. This way by wearing red plugs you will even get more awareness than with tunnels in this colour. A very popular material for flesh plugs is glass. Our red glass tunnels have a very individual natural grain. Therefore every glass flesh plug will be unique. You can also see the same phenomenon with our red stone tunnels and plugs. These are available made from Jade stone, Howlite, Sandstone and Rose Quartz. The red LED flesh plugs are a nice eye catcher as well. You will be the spotlight of any party if you wear them. If you like it special and individual maybe our fluid plugs will also be the right choice for you. They are available with small red balls swimming in a liquid inside the tunnel plugs. Also a very attractive jewelry - variation are our red SUPERNOVA flesh plugs and tunnels gemmed with SWAROVSKI crystals. They underline the beauty of red steel tunnels with the fancy SWAROVSKI rhinestones. No matter which kind of red tunnel jewelry you prefer you can buy any style here. Get your favourite tunnels in the colour of love now. :-)