---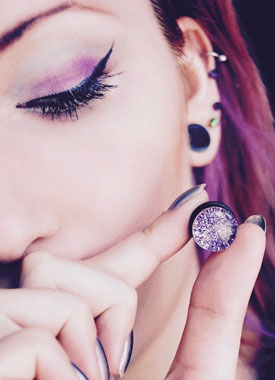 The idea of glitter plugs can be divided into two approaches. First there are ear plugs that consist of a sparkling front side (similar a picture plug). Second there are plugs with a liquid-filled void. The liquid is also enriched by glitter. While walking, the movement makes the plug and its included glitter shake and causing a flashy effect. Most items start at a size of 3mm a diameter. After you have decided for one of the alternatives you can choose between acrylic and surgical steel 316L. All in all these items can serve as stylish fashion accessories.
Glitter Plugs with liquid
As already mentioned we offer two different kinds of glitter plugs. The ones that contain liquid and the ones that don´t. This section of the article is about the ear flesh plugs containing glittery liquid. This special liquid is a transparent one and the jewelry itself is completely waterproof so that the liquid can´t drip out. This makes the glitter plugs we sell in our shop very durable. Inside the transparent liquid the glitter is placed. Our liquid glitter ear plugs are available in different colours like green, pink, silver and multicolour. The multicolour liquid plugs contain glitter in various different colours.
Glitter Tunnels & glittery plugs without liquid
In addition to the glitter plugs that contain carrier liquid we also offer tunnel jewelry where the glitter is not placed into a liquid inside the jewelry but integrated into the surface. This is more static but it also sparkles very nicely when the sun or some light is shining on your plugs. Because the glitter is placed into a very thick transparent surface these non liquid glitter plugs will also generate a beautiful 3D effect. They are available in various different glitter colours and styles. The most beloved colours are gold, white, red, purple, rose and pink, violet, dark green, light green, petrol blue, black and silver. Apart from that we also offer multicoloured glitter plugs with big glitter elements. Also very popular at the moment are our orange/gold glitter tunnels and the white ones as well. All glitter ear plugs are available in sizes between 4 and 16mm some of them are also available in smaller and larger sizes up to 30 millimeters. All our glitter plugs are premium quality only. Nevertheless we offer them for