---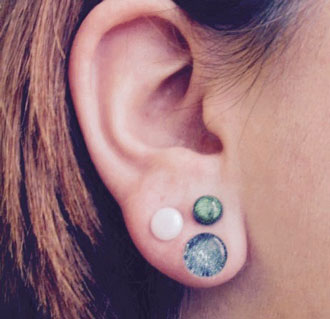 The traditional jewellery making of various cultures lasts for quite some time with glass as one of the oldest materials being used. Still it never occurred that glass went out of fashion. There are good reasons for that. Its extra smooth surface enables a problem-free use and carries conviction to allergy sufferers. Within the production procedure, numerous different colour pigments can be inserted, leading to a wealth of variants in the world of glass plugs and at Flesh Tunnel Shop. The main two plug types include a transparent and a version in milk glass optics. For lovers of an extravagant look we are offering glass made plugs with a facet cut. Anybody that is into a crazier look can choose between fluorescent plugs and items with a twister look. You want it ? We got it!
Glass Ear Plugs - multi-varient jewelry for your ear
Glass definitely is one of the most timeless jewelry materials. It has been used for thousands of years to make beautiful jewelry out of it. So it is not a big surprise that is perfectly suitable to also make jewelry for stretched earlobe piercings out of it. Glass flesh plugs are available in various colours and styles. Currently the most beloved one is the blue classic glass plug. It is available in sizes between 3mm and 20 millimeters. It is a double flared tunnel plug without screw. Almost in the same way popular are our yellow glass plugs which are available in the same sizes. Especially when the sun or any other light is shining on them they glimmer very beautifully. Not less popular are the green glass plugs and our grey glass flesh tunnel plugs. Like most of our glass plugs they are also available in various sizes ranging from small to very big.
Glass Plugs for Ears - various stylish textures
In addition to the various colours our glass ear plugs can be bought in they are also available with different textures. Our most popular one is the marble flesh plug. It has the same texture like marble stone and every marble glass plug looks a bit different which makes this jewelry very unique. Also very cool and unique are the blue - transparent ear plugs made of glass with colourful stains. If you prefer it a bit funnier, the transparent glass plugs with an owl on the outside might be the right choice for you. It is only available in 12mm, 14mm and 16 millimeters which makes them even more individual. If you like your flesh tunnel plugs to be seen also in the darkness our glow in the dark tunnels and ear plugs made from glass might be the right choice for you. These are self illiminating and you will be the eye catcher at any party when you wear them.
Glass Flesh Tunnels - Ear Tunnels made of glass
Although flesh plugs made of glass are more popular than tunnels we can currently also see a trend towards glass ear tunnels. They are very beautiful and because of the hole in the center of every piece of jewelry the light refections are even more spectecular than with glas plugs. Glass tunnels are available in amber, blue, green, brown, yellow, orange, violet, transparent, white and black. No matter if you prefer glass tunnels or glass plugs - we offer them in various styles and colours here. Just check out our portfolio and buy your favourite ones here.