---
Buy Swarovski Piercings here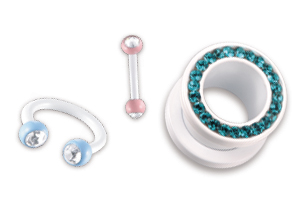 The Swarovski brand implies quality, perfection and innovation and brings a fascinating glitter with it. Piercings gemmed with these crystals have a beautiful shine through an individual production process, in which the crystal glass is carefully polished. The diamond-styled glass character is also found in piercing balls, bananas, as well as the crystal tunnel and shows a breathtaking variety of colors. Swarovski Piercings are exclusive and are chosen mainly by fashion enthusiasts. These unmistakable jewelery gives your personality an unique character and makes every outfit a highlight. The piercings definitely attract attention and leave a lasting impression. Let yourself be convinced by the beauty of the Swarovski Piercings and find your individual expression.
Piercing Jewelry With Swarovski Crystals
Swarovski Flesh Tunnels & Plugs
Swarovski Flesh tunnels are absolutely trendy. You shouldn't miss this trend out. Especially the clear, polished crystals make this piercing tunnels exclusive and create a unique style. The stones are inserted into the Flesh Tunnel by hand. This gives the crystals an extra-strong hold, which makes sure that you won´t lose the premium quality strass stones. Swarovski Flesh Tunnels are very unique and definitely a masterpieces of piercing jewelery.
Swarovski Bananabells, Barbells & Banana Piercings
Swarovski bananas make your belly button shine. No matter if a simple crystal or a multicrystal bananabell is used the piercing is definitely perceived in a positive way by the people in your surrounding. If you can not get enough, you can also use the abdomen piercing with two crystals. Colors like Fuchsia, Aquamarine or Sapphire make the Swarovski Navel Piercing jewelry an exquisite peculiarity. For anyone who wants something extraordinary and unusual, this banana piercing is exactly the right choise.
Piercing Balls with Crystals by Swarovski
The variety of piercing jewelry with Swarovski stones is particularly evident in the sphere of piercing balls. Many great colors can be combined with different piercings. Whether bananas, horseshoes or barbells - the balls can be installed in the favorite color. You can wear your jewelery at the place you like best. Remarkable in the nose, on the ear or rather hidden, as abdominal piercing or as intimate piercing. You can give a piece of exclusivity to every part of your body. Especially the pastel colored balls with a crystal gems are unmistakable and something very unique.
Swarovski Fake Plugs and Ear Studs
Additionally to the classic piercing jewelry we offer original Swarovski Fake Plugs and Ear Studs as well. These are available in a large variety of different stylish colours and sizes ranging from white to blue and red. A stretched earlobe piercing is not needed to wear the Swarovski fake tunnels and cheater earrings. A plain earlobe piercing like most girls and some boys use to have it for earrings anyway will be enough to wear these stylish Swarovski Fake Plugs.