Motive Fake Plugs with Image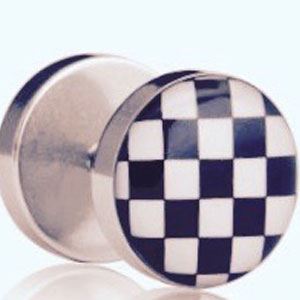 As the proverb says, a picture is worth a thousand words. We can only consent and present you our broad sampling of funny, sexy, freaky or simply beautiful motives. The images clearly convince by a high-definition appeal and a high qualitative workmanship. May it be diamonds, animals, anchors, 8-balls or decent patterns - nearly anything you can think of is there to discover.
Motif Fake Plugs - Fake Tunnels with crazy images
Here in our motif fake plug section we offer a large variety of different high quality fake plugs with numerous illustrations on them. As there are always great new picture - ideas coming from different artists from the body modification scene we update our picture fake plug portfolio on a regular basis. Most of our motif fake plugs are made from surgical steel. We only offer premium quality 316L steel jewelry here which of course doesn´t rust and is anti allergic. To make you the decision a bit easier we would like to suggest you some of our most beloved picture fake plugs here. The most popular motif fake tunnels are pin up fake plugs at the moment. These come up with various sexy pin up girls in freaky old school designs. The most beloved one is the pin up with monkeys fake plug which is taken from an old American 1940's movie. Almost as popular are our rainbow fake plugs in different versions. No matter wheather you´d like to wear the rainbow as a symbol of pride and tolerance or if you just love this motif - rainbow fake plugs are always a nice piece of jewelry.
Chessboard Fake Plugs & Star Fake Plugs - set your own trend
Fake Plugs in the style of a chessboard are also very popular at the moment. You can buy them in numerous colours here in our shop. No matter if you are a chess player or not - chessboard fake plugs are always a very stylish fashion statement. If you rather prefer star motifs maybe our star fake plugs are the right thing for you. These are available in red, grey, black and white and the plate size is 10 millimeters. Like all other Fake plugs also the picture fake plugs have the advantage that they look like real flesh tunnel plugs but the only thing you need to have to be able to wear them is a simple, unstretched earlobe piercing like you would also need it for classic ear rings and ear studs. Just select your favourite picture plug and enjoy your new piercing jewelry.
---