---
Silhouette Ear Plugs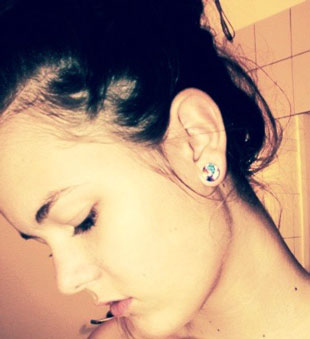 As distinct from picture plugs the motif of the silhouette tunnel plugs is not placed at the surface of the plug but inside the jewelry. The plugs itself are transparant with the result that a special depth effect is generated. The picture makes the impression of a hologram and imposes an individual touch. Like with all other categories we offer a large selection of stylish flesh plugs also with our silhouette plugs.
Silhouette Plugs - Which motif is the best?
We update our silhouette plugs portfolio on a regular basis to keep our fingers permanently on the pulse of the time. Nevertheless you might be spoilt for choice. That´s why we would like to make you some suggestions and give you some insights on our current bestseller products. The most popular products at the moment are chessboard plugs. These are available in various colours and colour combinations. The most beloved ones are the colourful chess board flesh plugs. In this motif the colours red, yellow, blue, black, green and white are used. This range of colours makes them very beautiful. If you prefer two coloured or one coloured flesh plugs instead you will also find them here, too. Very popular at the moment are the black and white, black and blue, black and red, black and pink and the white and green chessboard ear plugs. All our chessboard silhoette plugs are available in sizes between 5 and 30 millimeters. Some of them are even available in huge sizes like 48mm. This way you can wear very special earlobe jewelry even if you have wide stretched earlobe piercings.
Owls, crosses, flowers, skulls - find any kind of silhouette plugs here
If you are looking for an alternative to your chessboard plugs we also offer various other motifs in our portfolio. Starting with the beloved owl plugs and not ending with our dried flower ear tunnel plugs you will find almost anything here. Very impressive is the galaxy ear plug which shows our galaxy in a fabulous way. This one is not only a cool one for space fans. If you want to have a lifeline in your life you may also like our anchor silhouette ear plugs. These are available in sizes between 6 millimeters and 25mm. If you are a big fan of sweets and food probably our cupcake plugs are the jewelry of your choice. If you prefer flowers instead maybe our dried flower flesh plugs will be your perfect choice. These are available in various styles and every flower plug is unique. No matter which motif you like the best for your silhouette plugs you will it here.