Green Flesh Tunnels & Plugs
---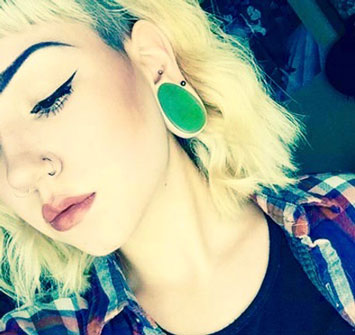 Green is the colour of hope and nature. Therefore it is a very positive one. It stands for balance, creativity, rebirth, spring, freshness and progress. Because green has so many positive characteristics it is perfectly suitable to use as a colour for flesh tunnels and plugs.
Green Tunnels - freshness for your ear
Although green is the colour of spring it is not only the best colour to wear within the spring and summer months. Especially during the grey and cold days of winter and autumn beautiful green flesh tunnels are perfectly suitable to put some positive energy to your everyday life. This can be very helpful to lift the mood during the dull days. In our shop you can find a large selection of green earrings, tunnels, plugs, tapers and gauges made of various materials. One of our most popular products is the pastel green tunnel made of surgical steel. It is a very special product because until some years ago people have been mainly focused on steel tunnels in silver and black. Now it is possible to manifacture robust high quality steel tunnels also in other colours like green and many piercing fans love them.
Green Stone Plugs, Flesh Plugs made of Glass, Silicone and Steel - select your favourite material
In addition to steel plugs many people also enjoy the green glass ear plugs we offer. They are available in different shades of dark green and light green and a green crystal plug version is available as well. If you prefer motifs on your tunnel we also offer divers green tunnels with chessboard, green star, and eye motifs in our green tunnel shop. You can also buy green LED plugs for your ear lobe piercing, glow in the dark plugs and liquid plugs here. You can find various kinds of stylish green piercings jewelry here. And although we currently offer a large range of tunnel jewelry we continuously expand our selection. So it´s worth checking out our online store regularly to find the latest piercing trends here.