---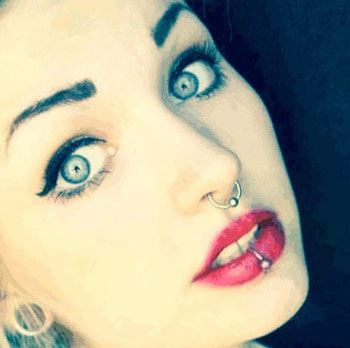 These can be worn on almost any piercing on the body and are mainly composed of a ring that closes to a ball. The ends of the ring fit into small dimples on the ball and the pressure exerted by the ring keep the ball in place. They have a simple shape and even though they can fit in most piercings, they work best on ear piercings, navels, lips, septum, among others.
Titanium, Steel or Bioflex - Ball Closure Rings made of any material
Ball closure rings are made of various materials including blackline, titanium, PMMA acrylic, gold and surgical steel. There are three distinct shapes available and these are squares, circular shape and triangles. You can also opt for any style of your choice ranging from glitter balls, multicolored balls or those with patterns as well. Also very popular at the moment are the rose gold ball closure rings with gemmed with a crystal. They are very beautiful and often used as Septum Clicker. For piercing fans who prefer very special piercing jewelry we also offer BCRs with pendants in the shape of a heart. These pendants are gemed with crystals in different colours like purple, transparent, red, pink or blue.
Opening and closing made easy - with BCR Rings
It is fairly easy to open and close ball closure rings. To open one, you only need to pop the ball out and to close one, the ball is replaced. You can do this with your hands but should there be any difficulties in an effort to do so, you can use the ring opening pliers both to open and close the BCR. This way opening your favourite piercing jewelry will be even easier.
8mm, 9mm or 10mm - Find Ball Closure Rings in your favourite size
Many sizes of the BCR are available but it is very important to find the size that fits you appropriately to avoid any damage on the piercing, failure to heal and causing it to migrate. Aspects to consider are the gauge and the internal diameter. You can then measure the distance between two holes on your piercing and this will help you achieve just the perfect size of ball closure rings. Note that using BCR on fresh piercings can cause swelling.
Ball Closure Rings & Septum Clippers
The Ball Closure Ring (shortly BCR) is a piercing candidate for nipples, ears or nose. Especially the nose is perfectly suitable for this type of piercing. A popular piercing like a septum BCR communicates this accuracy of fit. It is pierced through the nasal septum and can generally fit jewellery sizes between 0,8mm to 1,0cm in diameter. Flesh Tunnel Shop offers you 3 distinct shapes, ranging from a classical circular shape to triangles and squares. You can individualize your own style with a great selection of multicoloured balls, glitter balls or involving patterns. Whether your BCR contains black steel or differently painted synthetics - we guarantee our customers a stylish appearance. Last but not least we'd like to emphasize our brand new septum clippers. These piercings are especially decorated to appear in quite a sensual way. That appeal of septum clippers speaks to all people with a dislike towards any overly masculine nasal piercing.