---
Fake Tapers & Fake Ear Stretchers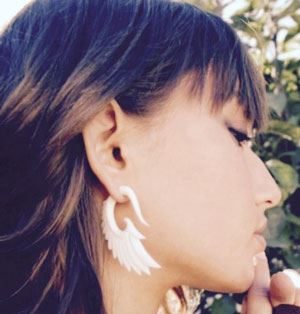 Even although there are thousands of different fake plugs sometimes classical fake plugs can become boring. That´s where fake stretching jewelry comes into the game. Exactly like with cheater errings you don´t need a stretched earlobe piercing to wear them. A classical piercing like you would also need it for errings or ear studs is enough. Fake tapers are just a great option to wear special, more interesting and different ear jewelry.
Straight Fake Expanders
Straight expanders are normally used to stretch your pierced earlobes. Since the big surface makes space for cool designs and patterns, an expander is also usable as a casual jewel. An expander looks remarkably real and gives the impression of a true ear plug. It consists of two pieces being screwed together abreast the earlobe piercing. Materials like surgical steel 316L or acrylic and a wide range of colours cover nearly any imaginable taste. For people with a passion for flashy ear pieces we keep crystal crested expanders stocked.
Spiral Fake Expanders
Spirals and Stretching Crescents are applicable to stretched earlobes. They belong to the toolset of stretching equipment and can be found in various colours or shapes. Fake spirals help you test the general appeal of such a piece in your ears. If it fits your style you can choose out of a massive amount of different colours and several materials like surgical steel, acrylic or wood. The bridge between both parts is always fabricated of steel, ensuring the durability of the whole piercing. The extraordinary shape of each piece illustrates your personality and individuality.
Fake Claw Earrings, Fake Tunnel Screws and Anchor Cheater Earrings
Apart from spiral fake expanders and straight tapers we also offer a large variety of unusual fake tapers here at flesh tunnel shop. The most popular ones at the moment are black fake spirals in the shape of an anchor. These are made of premium quality acrylic. They are very stylish and they will help you to show your maritime side. Also a very special variation of fake stretching jewelry are fake ear stretchers in the shape of screws. These are available in the colours silver and gold. They are made of 316L surgical steel which makes them very robust and scratch resistant. At least as beloved as the two versions of fake ear stretchers mentioned above are fake tapers in the shape of angel wings. Of course you can only buy them in the colour of innocence - white. ;-) Additionally to these cheater ear tapers yopu will also find tribal earrings, zebra fake expanders and crystal fake tapers here in our shop. Just get your favourite one and be happy with your new fake ear stretching jewelry.