Orange Flesh Tunnels & Plugs
---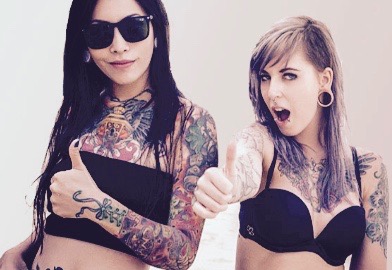 Orange is the colour of warmth. Therefore it radiates a happiness and positive energy. It brings together the physical energy and stimulation of red with the cheerfulness of yellow. Orange is a very beautiful colour not only for clothing but also for flesh tunnels and flesh plugs. Therefore we offer a large variety of orange piercing jewelry.
Orange Tunnels - fresh & fruity piercing jewelry
Orange seems to be the perfect summer colour. Indeed it is of course the colour of the hot season. But also during the grey days of autumn flesh tunnels and plugs in orange are optimal to wear them in contrast to the grey weather outside. You can find a large selection of tapers plugs, flesh tunnels and gauges made of divers materials. Our most popular products are the beautiful orange glass tunnel plugs. These are double flare ear plugs without screws. Many people also like the orange acrylic tunnels. They are very robust and the colour is shining brightly.
Orange fluid plugs, glitter plugs and pencil plugs
One of our definite eye catchers are the fluid plugs. They are avalable in different colours and the orange version is absolutely one of the most popular. The fluid plugs are filled with a liquid and inside of them some orange balls are swimming. If you rather prefer the traditional tunnel style we also offer classic acrylic ear plugs in orange. They are very robust, the colour is very intense and the value for money ratio is just perfect with our classic plugs. If you prefer stone plugs instead our orange - blue plugs made of marble stone are the perfect choice for you. Every item is unique. This way you can perfectly stress your individuality. No matter which kind of orange tunnel jewelry you prefer you will find it in our shop for sure.