Tapers, Expanders & Ear Strechers
Ear Expanders, Tapers and Piercing Stretchers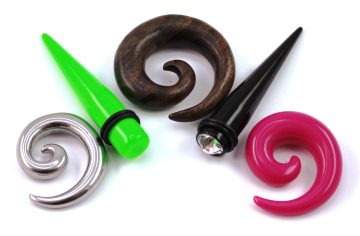 The size you aim for is totally up to you. There are still some simple rules for stretching that you should consider. At first you start with 1mm each step. If you made it up to a certain size you can go up to 2mm. This becomes important in terms of preventing ignition. Since piercings present themselves as interventions to the human body, it is advised to be optimally informed. Second, please only use stretchers and ear expanders that have been manufactured for that purpose.
A huge advantage of expanders is the possibility of dual use. After their service as stretching tools, they can be used as stylish fashion accessories. Whether designed straight expanders, a colourful spiral taper or wild buffalo expanders, at Flesh Tunnel Shop you can find anything of imagination. We are offering numerous sizes and multiple expanders materials. If you have never experienced an expander, simply try to imagine a classic creole in your pierced ear. Have a look at our product line and complete your next outfit with something fresh.
What does Expander or Taper mean?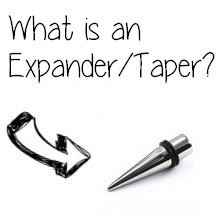 Piercing stretchers and ear expanders are the necessary tools you use for the stretching of your earlobes. There are two kinds of ear piercing stretchers: straight expanders and spiral tapers. The only difference between these two is their shape. Both have a very thin beginning (measured by their calibre) but increase in size over time. This allows painless ear stretching to all desired sizes. The growing pressure leads to minuscule chaps that enable the skin to widen. But please remember: It is important that you stretch your piercings gradually - the slower the better. Allow plenty of healing time between the single stretching steps and consider using aftercare piercing cosmetic products. It may occur that your earlobe is hurting or bleeding a little bit. This ok if it returns to normal after a short period of time. Our blog includes more information if you wish to get more educated on the issue. Happy stretching!
Your steps for stretching
We would like to give you a short summary on the most important facts of earlobe stretching. At first you should be ok with the amount of time it takes to reach your goals. Anything else would risk the damage of your skin tissue. Especially if you stretch more than 1 or 2mm a moment, you risk negative long term effects. A fitting starting point is the time after taking a shower or bath. At this point the skin is really soft and flexible, facilitating the skin adaption. Please use a lube like Vaseline to support the stretching procedure.
In order to find the feeling of security one needs to start stretching, this is how the skin works: While stretching your skin, microscopic chaps appear. This effect is wanted and needed! So don't hesitate. These chaps are the reason your skin can be widened. You can compare the stretching procedure with the build-up of muscles. In order to let them grow, you have to hurt them. The growth implies the adaption of skin to new circumstances. Still there are some essential details to consider. In order to fabricate the best possible result you better widen your earlobe gradually. Take the time needed. Anything else won't bring the results wanted. If you put too much pressure on the chaps, the skin may spark a backlash with the emergence of scar tissue in order to prevent a further spreading.
A history of stretching
The history of body modification and earlobe stretching in particular is long and fascinating. Besides others, the oldest and therefore most spectacular finding of this sort is "Ötzi", a mummy found 1991 in a glacier. He was a man that evidently lived about 5000 years ago and had widened earlobes of about 7-11millimeters. Many indigenous tribes and nations happened to celebrate a cult of the modified body. Some researchers believe women stretched their ears, nasal wings or lips in order to be safe from rivaling tribes that went out for rape. What started as self-devaluation became a beauty ideal for the men of the own tribe.
Today we can draw on various materials for our expanders and stretchers. Primitive races didn't have these options. The inhabitants of the Marshall Islands used rolled leaves of the Pandanus tree for example. The succulent leaves were so thick, they provided such a suitable tool at that time.
Typical materials for expanders
Besides a rich selection of colours and shapes, our expanders are available to buy in numerous materials. Listed below are the current materials we offer including individual advantages and disadvantages.
Synthetic / Acrylic
Acrylic is by far the most favoured material among the scene. Explanations can be found in the light structures of synthetics. That's why it is advised to start your stretching career with the help of acrylic expanders. The smooth surface lubricates every item. It also reduces the possibility of bacteria or filth to endure and can be designed in various ways. Summarizing Synthetics present themselves as quite diverse.
Silicone
Silicone is a pretty flexible and long-lasting material. Silicone proved itself in cosmetic surgery, conveying the needed skin-friendliness of piercing jewellery. It is the only synthetically manufactured material that includes both anorganic and organic characteristics. Bacteria and contaminants can't cope with the surface area. The only "major" disadvantage is the shortened air supply inflicted by the slinkiness of silicone on skin. An attractive price-performance ratio makes acrylic expanders a reliable choice.
Surgical Steel
Surgical steel 316L is the best-liked material in the whole piercing community. That is based on several advantages steel has to offer. It is highly stress-resistant, scratchproof and comes along with a nice metallic sparkle. From a hygienic point of view, surgical steel outperforms any other material. The medical background helped the material taking a strong hold in the community. It offers the smoothest surface, which leads to extra lubricated expander tools.
Wood
Compared to other materials, wood entails some clear advantages. The organic source makes every wooden stretcher relatively light. It's also desensitized towards a possible cooling, which clearly boosts your wearing comfort. Besides that, there is no interference of air circulation. The skin can easily breathe and therefore won't generate any bad smell or sebum.
A characteristic of wood is the individual appeal any piece and tree species has. Please consider any preferences in colour and pattern you have might not exactly match the posted product. We're offering many different types of trees to cover a wide range of taste. In order to prevent wooden items from drying out or becoming porous, it is advised to treat them with caring substances like Jojoba oil from time to time.
Horn
Horn as well as wood includes many of the advantages originating from its organic nature. Regardless of the fact the physical structure being more robust than wood, horn impresses with a breathable surface, temperature resistance and its many processing possibilities. The density makes the material heavier. A well-made combination of horn and wood can lead to some "one of a kind" pieces.
Bones
There must be a reason indigenous nations used bones for ages. Thinking of the needs of former times, a crucial factor like robustness surpasses both wood and horn. Still it doesn't do harm to your wearing comfort. Bone expanders keep their temperature. Since the material is most breathable, there is no need to deal with bad smell. If you don't treat your bone made pieces appropriate, the risk of split-off can occur. The main reason is an over-exposure caused by weight.
---