---
Silicone Flesh Tunnels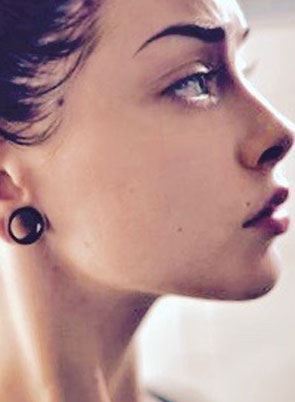 The overall smooth presence of silicone tunnels makes them a well perceived kind of piercing jewellery. Sometimes they are also called gum tunnels or rubber tunnels. These are available as double flared tunnels and single flared as well. Especially sportsmen and other active people like motorcyclists and bikers favour flesh tunnels made from silicone. In sports the material undergoes every motion without interfering and helps the sportsman achieve his goals. For people wearing helmets, the flexible material doesn't lead to painful print positions. Another big plus is the achievable variety in terms of colour and shape. Whether it may be triangles, squares, classical circles, with and without crystals, multicoloured or glow in the dark tunnels - we got what you want!
Huge Colour Selection of Silicone Tunnel Jewelry
In our silicone tunnel shop you can find a tremendous colour selection. Although most of our customers buy black and white ones colourful silicone tunnel jewelry is becomming more and more popular. Currently the most beloved silicone tunnels are the extra thin blue ones. They are razor thin and the blue looks very beautiful. Because they are so thin they offer a very high wearing comfort and are perfectly suitable for people who do a lot of sports. Additionaly they can be removed easily to clean them. As silicone tunnels are very popular they are available in all sizes between 3mm and 50 millimeters. So you can be sure to find your favourite jewelry even with larger tunnel piercing sizes. Tunnel jewelry made of silicone is not only available in black, white and blue. We offer silicone tunnels in various colours like in green, pink, red, purple, orange, yellow and various metallic colours, too.
Glow in The Dark Silicone Tunnels - burn the candle at both ends
A huge trend at the moment are the glow in the dark tunnels made of silicone we offer in our shop. These are soft and smooth like all other silicone jewelry and shine in the darkness which makes your stretched ear lobe piercings an eye catcher on any party, festival or concert. The best thing about it is that you do not even need batteries. The special premium tunnel silicone they are made of is self-luminous. This means that they charge themselves when you wear them during daytime and they will glow as soon as you come to a dark room or when the sun goes down.
Squares, Drops or Triangles - Tunnels made of Silicone in crazy shapes
Sometimes you may prefer something new. Of course the basic shape of silicone tunnels is the circle. But if you like to wear an alternative from time to time our triangular or squared flesh tunnels might be another option for you. These are a true eye catcher and you can buy them in various colours like pink, light blue, dark blue, yellow, grey, white, black, orange and purple. Apart from the crazy shaped jewelry you will also find strass tunnels made of silicone. These are gemmed with crystals. Because these gemstones are protected by a protective coat the tunnels are at least as robust as classic silicone tunnel jewelry.