Rose Gold Tunnels, Plugs & Piercings
---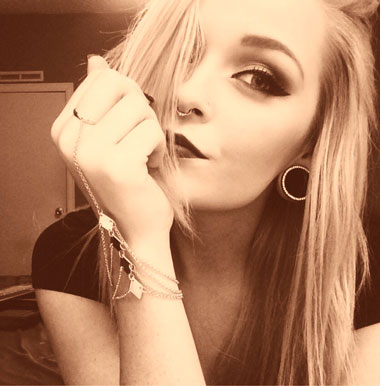 Rose gold is the trend colour of the last months and it is getting more and more popular because of various new designs are beeing manufactured week after week. Therefore rose gold piercings shouldn´t be missing in any jewellery box. No matter if you prefer rose gold nose studs, nose rings or barbells you can find them here. At least in the same way popular are rose golden flesh tunnels and plugs. These are often combined with other piercings in this colour. This way you will get the perfect rose gold style.
Rose Gold Flesh Tunnels - combining the beauty of copper and gold
Rose gold flesh tunnels are a winning combination of golden and copper coloured tunnels. This colour expresses beauty, wamth and strenghth in the same way. Real rose gold unfortunately has several disadvantages. It is enormously heavy which makes it less suitable especially for making bigger tunnels out of it. On the other hand the material is very soft. For that reason its surface would be scratched very soon if the tunnels were produced from real gold. Therefore and of cause because tunnel jewelry from real gold would be very expensive we use high quality surgical steel to manufacture our tunnels. This anti-allergic steel is very robust, scratch resistant, less expensive and looks in the same way beautiful and piercing jewelry made of real rose gold.
Flesh Plugs - the perfect Rose Gold Body Jewelry
Flesh plugs even offer a larger space to show the beauty of rose gold because they don´t have a hole in the center and therefore there´s room for creativity. For example we offer rose gold plugs with an anchor motif or diamond motifs. At least in the same way popular are the antique rose gold lotus flower flesh plugs. The lotus flower motif is very structured and manufactured with love for detail.
Rose Gold Body Jewelry - Nose, Nipple and Ear find the best Piercings here
Ok maybe we are not the best poets but at least we try to have the best portfolio regarding to Piercing Jewelry. Therefore we permanently watch out for new trends in the body modification scene. This way we make sure that you can always find the latest piercing stuff here. Some of these trends last longer, other trends´popularity lasts for a shorter time period. One of these long term trends is the rose gold fashion trend. You don´t only see this trend in the jewelry industry but also in many other fields like clothing and furniture as well. But as the jewelry branch is our cup of tea we just want to focus on the current trends in this field. The most important trend at the moment are rose gold hoop earrings in different beautiful variations and barbells in this colour. Many piercing fans also love our rose gold nose studs with crystals. Those who like piercing jewelry but are not allowed or who don´t want to have a real body piercing prefer fake nipple piercings, ear cuffs and classic ear studs in rose gold.