---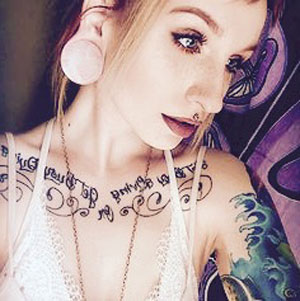 Like no other material stone and gemstone is perfectly suitable to manufacture completely unique tunnel jewelry out of it. Although the jewelry industry is still mainly focused on diamonds, brilliants and imitations of them there are many difeerent other gemstones that are even more stylish, unique and of course much more affordable. Here at flesh tunnel shop you can select between dozens of different beautiful and colourful flesh plugs for your stretched earlobe piercing. Here is a selection of the different kinds of gemstone our flesh tunnel plugs are made of: Opalite, Rose Quartz, Tiger Eye, Petrified Wood, Dalmation Stone, Gold Sandstone, Howlite, Marble (Blue-Gold), Colourful Marble, Orange Blue and Pink Green Marble, Blue Sandstone, Green Aventurine Stone, Amethyst, Jade, Onyx, Sodalite, Turquoise and Tiger Eye - just to mention some of them.
Marble Plugs for your Ear - stylish and versatile like you
Marble plugs have become a huge trend within the last months. The texture of marble is very individual so every piece of tunnel jewelry that is manufactured out of it will be unique. Marble Plugs are available in sizes between 3mm and 20 millimeters. We offer a large variety of different natural colour combinations here in our stone plug section. The most popular marble plugs at the moment are the blue - gold, the orange - blue and the colourful ones. These stone flesh plugs are longliving and their colourful texture makes them very beautiful.
From Lava Plugs to Turquoise Ear Plugs - we got them all
Because there it is such a large variety of different stone tunnels and plugs it is even hard to mention all of them. A really unique and timeless beautiful stone plug is the lava flesh plug. It is made of real lava stone and the holes inside of it make it very lightweight and special. It is a completely timeless piece of jewelry that will fit to any kind of clothing. If you prefer the bright beauty of turquoise instead you will also find the right stuff here. No matter what kind of gemstone you prefer we offer a large variety of the coolest stone plugs here so the chances are high that you will find your alltime faavourite here.:-)