---
Nose Rings - cool rings for your pierced nose
Depending on the different parts of the nose nose where piercings are possible, nose rings are more or less common. To give a better overview on the topic we would like to show you which kinds of nose rings are available in our piercing shop and which ones most people prefer.
Septum Nose Ring Shop
The septum nose ring piercing is probably the most popular nose ring piercing. It is pierced through the elastic cartilage of the nasal septum by the piercer. As with all other piercings the septum nose ring requires the piercer to be a good hand at his job. Because of this you should definitely select a piercer who you really trust in. Septum nose rings are part of many different cultural circles and one of the oldest kinds of body modification. The term infers to the latin word "Septum Nasi" which simply means nasal septum. When your nose septum is finally pierced and healed you can select your favourite nose ring here in our nose ring shop.
Buy Nostril Nose Rings - select from a wide range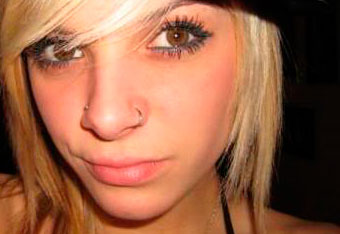 In our nose ring shop you can select from a large selection of nostril nose rings. The nostril nose ring piercing is the most widespread nose piercing in the western culture. Especially in the late 80s and 90s nostril nose rings were a good way to show your rebellion against the society. These days This is still the case and the nostril nose ring and the nostril nose piercing will never go out of style.
From the golden heart to the colourful ribbon - nose rings in all colours and shapes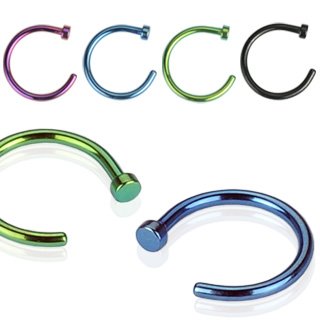 Also in the field of nose rings our product portfolio is very extensive. You can buy them in the colours violet, blue, green and black in our shop. All colours are available in the sizes 0.8 x 8mm; 1.0 x 8mm und 1.0 x 10mm. If you are looking for something eye - catching our striped nose rings will be ideal for you. They fit perfectly without clasp just by putting them into your pierced nostril. Striped nose rings are available in the colour combinations violet - blue, pink - silver, violet - turquoise, blue - silver, green - blue, turquoise - silver and golden - blue. The colourful - striped nose rings are made of robust and anti - allergic 316L surgical steel so nothing can go wrong with it. The way to a man's heart goes through his nose. Our nose rings in the shape of a heart are definitely a perfect eye catcher. You can order them in our online shop in the colours gold, silver and black. Our nose studs with ribbon you can also buy in the colours black, silver and gold. If you prefer crystals and strass instead you will definitely like our nose rings with crystals. They are equipped with clearly shimmering gems and they are also available in the colours silver, black and gold. As with all our products we guarantee you premium quality and favorable prices.