Blue Flesh Tunnels & Plugs
---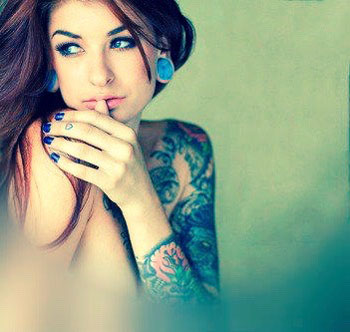 Blue is the colour of trust, honesty and loyalty. But even if you don´t identify yourself with any of these characteristics, blue is still an unbelievably beautiful colour. That´s one reason why blue tunnels and plugs have become more and more popular within the last years. No matter if the flesh tunnels are completely blue or if you prefer to have just some blue elements on them like blue motifs or crystals in blue. You will find any kind of blue flesh tunnels here at flesh tunnel shop.
Blue Flesh Tunnels - beautiful as a cloudless sky
Blue is many peoples´favourite colour. For sure this is because many phenomenons in the nature are blue. Blue like rivers, lakes and seas, blue like the blue sky and like crystal clear water. Very popular at the moment are the light blue acrylic tunnels. They are available in all sizes between 2 and 16mm. If you like it a bit thinner we also offer blue silicone flesh tunnels. Sometimes the classical round tunnel shape is a bit too boring. Therefore we also offer triangular shaped tunnels. You can buy them in any colour that you like and of course in blue as well.
Blue Flesh Plugs - even more space for this nice colour
The baby blue flesh plugs made of glass are very popular at the moment. In addition to these plugs in light blue we offer dark blue (marble blue) glass plugs as well. They are curved inwards (concave) on the one side and curved outwards (convex) on the other side. This gives them their perfect, beautiful finish. If you want to be the center of interest and a party the blue LED plugs might be the right choise for you. They glow in the dark and are available in your favourite colour. If neighter flesh tunnels nor flesh plugs are your cup of tea maybe you will like our spiral tapers. They are also available in differnt shades of blue so that you can select the blue of your favourite choice. Very individual and special are the fluid plugs. These are flesh plugs with liquid inside of them. Inside this liquid small blue balls are swimming. This looks very nice and will definitely be a great eye catcher. No matter which kind of tunnels you like the best you can find any type of blue piercing jewelry here. Just select your favourite one and push your style to the next level with blue tunnel jewelry.